Jeez! This month is freakin awesome for Scentsy news you guys! I'm not kidding! You've gotta check out all the new products that are getting released!!
*SPECIAL* - September Hostess Exclusive
This bushy-tailed friend of the Scentsy Buddy Forest Collection comes with a beautifully illustrated, original
Scentsy Buddy story, and she's only available to Hosts with a qualifying party of $150 or more during September 2013. Book your party today to take home this limited-edition Scentsy Buddy! Sunny the Squirrel and her special story can be purchased for $30 using Host Rewards or just $15 using Half-Priced Host Rewards. Sunny the Squirrel is a Baby Buddy and comes with a Scent Pak.
*SPECIAL* - New Catalog
Eeek! I LOVE the month of September because it means you get to finally see all of the new products that are in the new catalog! To download and check out all of the awesome new products you can go HERE. OR to view the products and order go HERE!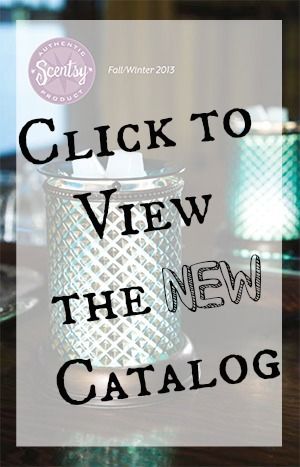 VIEW NEW CATALOG & ORDER
Here's just a few of my favorite new warmers. Seriously though, they're all freakin awesome! And I LOVE the new buddies, especially little Rowan the Raccoon! I really can't pick a favorite product but I love that I can use them for Cara Boxes and blog buddies birthdays. They work great for a cute little gift to send to a friend that's simple and reasonably priced!
*Warmer of the Month* - Creepy Crawly
Get the heebie jeebies with Creepy Crawly! A giant spider ambles up a ghostly white web, reflected against a glossy midnight background. With Creepy Crawly, you're set to send a shiver of delightful fright down your spine!
*Scent of the Month* - Sugar & Spice
Treat yourself as a crunchy candy coating gives way to a black licorice filling: spicy, herbal, and sweet
I do have some pretty neat personal specials going on but you've gotta e-mail me to get those! I do send out samples of the Scent Of The Month so if you're interested go to
THIS FORM
and fill it out! I'll go ahead and mail out samples once a month so if you don't get in on this month's you'll be lucky enough to try next months!
As always you can order directly through me (for free shipping) or you can order off of my websites:
Aaaaaand, if you'd like to "join" my groups on Facebook to get the lowdown on any personal specials I offer by all means join my group! Or, if you're up to more "like" pages feel free to visit my page!
She's sweet and sassy, and I love her store!!