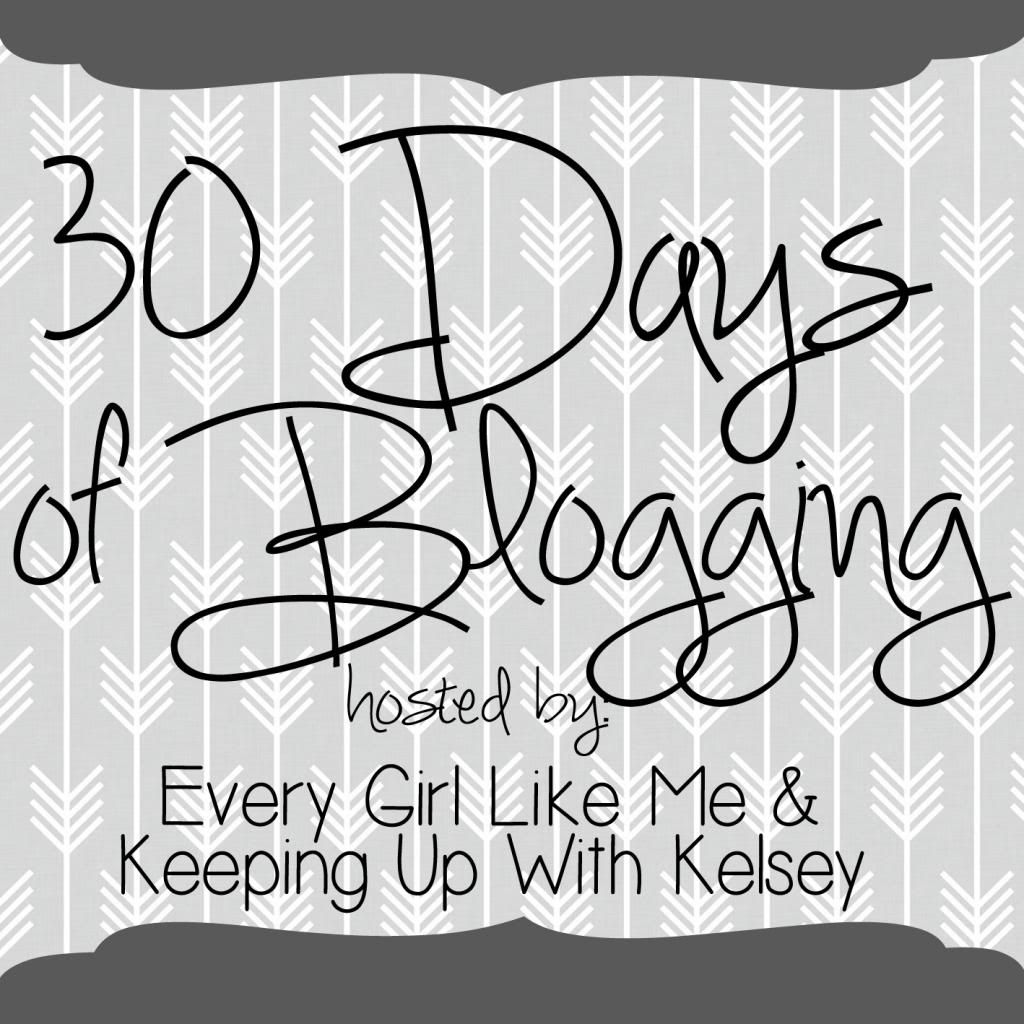 Welcome everyone! To those who are new jump on in! No need to back track and catch up on what you've missed (unless of course you want to, then by all means please do). Grab the button and blog about today's question. We love including newbies and are excited to see what you have to say each day!
______________________________________________________________________________________________
Yay!! Happy Easter to everyone on this amazing day! I really hope you're not reading this today, I actually hope that today we don't have very many people link-up either. Mostly because you should be celebrating Christ and spending time with your family.
My post is written super late but I'm forcing myself to not quit or give up on this challenge of blogging for 30 days straight so I guess better late than never!!
Today's prompt is all about Easter traditions. Well, the only traditions our crazy family holds are the typical dinner together type one.
Easter morning would always start out with us waking up and checking out what amazing goodies our Easter Bunny left for us in our Easter Baskets. You could place a bet there was a new water gun along with eggs hidden all over the house and sometimes, if we were extra good, we'd get candy as well. There was often kites included in our gifts and I loved it. I loved seeing the simple inexpensive gifts our bunny would leave us because it wasn't toys that required batteries. It was toys that required creativity and "fun" time with my other family members.
Oh, and a funny little Easter Bunny we had! I can remember him floating a plastic egg in our toilet one year... He'd hide them in the fridge, in the oven, in sock drawers, in dad's pockets, behind the tv, in the car, in the little tree mom had filled with bunny decorations. That bunny was good at his job, I'd consider him well trained and a terrific opponent in a solid game of hide-and-seek!!
Then the frantic rush would happen and we'd run around trying to jump into our Easter dresses and hurry to get to church on time. It was always a task to get my mom and sister ready and out the door with me and dad but we never seemed to be super late that I can remember.
When my dad's parents (aka my grandparents) were still alive we'd always go over there after church and enjoy lunch then they'd hide the eggs for us. I'm almost certain my dad and his cousin, Karen, would roll their eyes after me and my sister would force them to re-hide the eggs about five times. Each of us had our "side" of the house and then we'd race to see who could find all theirs first.
After lunch it was time to zoom home, grab the casserole (or whatever concoction my mom was brewing up) and race over to my other grandparents house. Some years we'd have enough time in between the shuffle to go outside at home and test out our kites, other years we were too busy hiding eggs to have time for those festivities.
At my Zoubek families Easter shindigs we'd play with cousins until it was time to go home. The bonus of your mom having five brothers and sisters is that you have A LOT of cousins to play with at family events. I have two cousins that are about the same age as me and us three girls would always have fun hiding in the spare bedroom creating our "Lisa Frank Club" rules and showing each other our latest stash of cool stuff. We'd all just celebrate the holiday together and catch up on life since most of us cousins didn't go to school together it meant we needed to cram all our play time into just a short evening.
Oh and the food. How could I possibly forget the food part for Easter traditions?! Well, my Homolka side is a full out Czech buffet. I'm talkin duck, dumplings, sour kraut, poppy seed covered rolls, the whole works. Grandpa would always pour the adults some wine and us kiddos he'd have a special kids grape champagne for me and my sister to split and share. And the Zoubek side, well... Having about 50+ people at a family event meant you always had plenty of food. Meat overload was a norm for the family, we'd have duck, turkey, goose, and once in awhile grandpa will pull out some crazy type of meat like turtle or something similar. I'd always go home a few pounds heavier with a full belly. You could count on that!!
So, those are most of my recollections of traditions from when I was younger, and with those memories I figured we could take a trip down memory lane and check out some fun pictures of me as a little tyke. Enjoy :)
______________________________________________________________________________________________
HOSTED BY:
CO-HOSTED BY:
______________________________________________________________________________________________
What are you doing today? Do you have any amazing traditions that your family always carries out?
RULES:
1. Follow your hosts Keeping Up With Kelsey & Every Girl Like Me
2. Follow your weekly co-hosts Hello Felecia


(PS- We still have a few spots available for NEXT WEEK for co-hosts)

3. Post the button onto your blog post so others can come link up as well

4. Link up your post below and look around at others blogs!

5. If you use Instagram of Twitter, tag us! #30DoB






______________________________________________________________________________________________
If you need a refresher here is this month's link-up posts:
1. Tuesday- Your Goals For The Month
2. Wednesday- Your Biggest Fear
3. Thursday- What Makes You... You!!
4. Friday- These Are A Few Of My Favorite Things, About Spring
5. Saturday- Share Your Favorite Workout Routines (And Why You Love Them)
6. Sunday- Your Favorite Sunday Routine Or Thing To Do On Sundays
7. Monday- What Do People Not Understand About You?
8. Tuesday- Your Favorite Photograph And Why
9. Wednesday- April Is Poetry Month, Share Your Favorite Poem
10. Thursday- Where Do You See Yourself In 10 Years? (Include Photos As A Challenge)
11. Friday- Did You Ever See Yourself Doing What You Do Today?
12. Saturday- Favorite Style of Blogging (Pictures, Quotes, Tutorials, Recipes)
13. Sunday- Share A Recipe, Book, or Product That You've Recently Tried
14. Monday- Biggest Pet Peeve
15. Tuesday- Share Your Date Night!
16. Wednesday- What Did You Give Up
17. Thursday- Thankful Thursday
18. Friday- Biggest Insecurities
19. Saturday- Favorite Quote
20. Sunday- HAPPY EASTER! Your Easter Traditions
21. Monday- 21 Facts About You
22. Tuesday- Who Are Your Blog Besties?
23. Wednesday- Wordless Wednesday
24. Thursday- Thirsty Thursday! What Are Your Favorite Drinks?
25. Friday- Songs You Love/Hate
26. Saturday- Greatest Life Lesson
27. Sunday- Spring Bucket List
28. Monday- FREEBIE! (Write Your Own Prompt!)
29. Tuesday- Favorite 30DoB Prompt
30. Wednesday- April 30DoB Goal Review
Keep an eye out, I'm going to create a list for the entire month so you can really get ahead of the game and post them all at once if you really want. Bonus points to the person that does too!!
Want to try out the new Bulu Box for just $5/month?
Click below and use the special promo code to get started!!