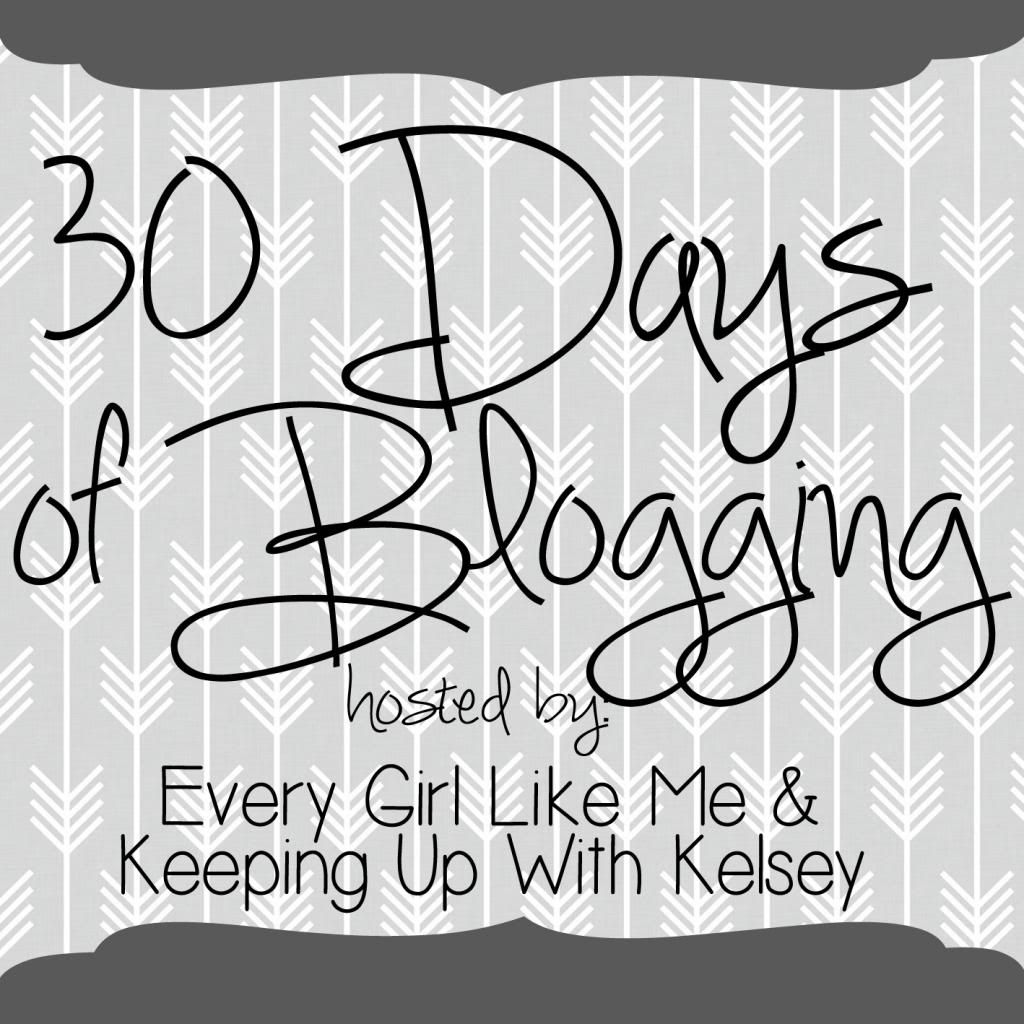 Welcome everyone! To those who are new jump on in! No need to back track and catch up on what you've missed (unless of course you want to, then by all means please do). Grab the button and blog about today's question. We love including newbies and are excited to see what you have to say each day!
______________________________________________________________________________________________
Well this will be hilarious! So you wanna know 21 random facts about me huh? Well, I guess laugh it up and tell me what you think!!
1. I sleep with a stuffed animal. I have since I was little, his name is Larry and he has his own blog. I don't update it much but still, he's just that cool. He is my little cuddle bug and every time I go on a new trip he gets another piece of jewlery or some type of war paint to remember where I went. He's been to Europe with me, been sitting next to both of my grandparents in their bed when they passed away and even with my cousin when she passed away. My entire family knows of Larry and most actually just roll with it. He also has absolutely NO stuffing/beans at this point. I've been searching for my exact Larry the lion but there's no replacing him, the manufacturer doesn't even make him anymore.
2. I have a tennis shoe fetish. I'm pretty sure this could be considered weird but I just counted over fifteen pairs of running shoes by the entryway. That's not including my older "junk" shoes that are downstairs or thrown into my closet. This is an issue and I'm working on it but I see a pair, I see they're on sale and they somehow wind up on my feet. #sorrynotsorry
3. I've been dating the man-child for over four years. Yes that is a totally random but truthful fact about my life. We've been through it all together. Family members deaths, financial hardships, fighting over taking vacations away from the farm, laughing at the most re-donk-ulous habits that we have. You think it's embarrassing, I'm sure Trav's seen me do it. Sometimes it takes a lot to put up with me but he's done it and doesn't complain very often about it.
4. I have always wanted twins. Most people say I won't wish that after I have my first kid but until then, I'll continue to dream of having twins and playing with two babies. I like a good challenge. This seems like the ultimate challenge of parenthood and I'm up for it. I'm always a competitive person and I'm certain this would be a fun little "job" to test my skills!
5. I sunburn easily and often. Let's face it, I suck at tanning. I rarely tan, I have two colors that my skin seems to achieve. White and burnt. It doesn't matter how much sunscreen I put on I almost always burn if I'm outside for lengthy periods of time. The only way I can truly add some pigment to my skin is if I fake bake for a solid month and then I'm pretty good at making the "fair" color look good on me.
6. I've been sucking at completing my 101 in 1001 list. Lately, it's taken the back burner, but with less than a year left I really need to get rolling and work on a few things! Time to find an outdoor movie theater, participate in a 5k every month for a year, and buy a working vacuum cleaner.
7. I run because I like it. Weird? Yes! But I'm ok with that. Most people think I'm a nut anyways so anymore I'm just searching for ways to affirm those thoughts. Running is my getaway and stress reliever. Just me and my shoes out running away from reality for awhile. Nothing frees the mind more than knowing you've got to run another three miles back home!
8. I vow to make my garden grow. This year is the year of success. I really want to actually eat from my garden and not just plant it then watch the weeds enjoy my watering skills and take over. I really want to focus on not only producing food for us to eat but also learn to can more so I can depend less on those money-sucking grocery stores. Here's to hoping that I have enough time to get outside and work in the garden this summer!
9. I have TWO college degrees. It wasn't on purpose. Actually, it was completely by accident. The first one was for love, the second was for a job (which I ended up quitting anyways). I loved agriculture and my heart was in ag so there was no doubt in my mind I wanted to pursue an ag degree. Upon completing my ag degree I found myself working at an investment firm. There I was guilt tripped into feeling I needed another degree in the finance world. I turned right around and completed my business degree and did it all online working full time along with a part time job. It was well worth it though, looking back, I'm not sure how I did it all at once!
10. I am addicted to direct sales companies. Although

I sell several direct sales companies including,

Scentsy

,

Velata

,

Grace Adele

&

Thirty-One I am here to admit that I do not make a full time income off of these companies. I'd like to say I'm extremely successful but reality is that I sell mostly to friends and family and I almost always give anyone who orders a gift so any commission I make goes directly back to them. It's not the best business plan but I like helping those who help me.
11. I don't really like chocolate. I may get things thrown at me for saying that but sometimes the truth hurts! The only chocolate I really crave is chocolate covered pomegranates or Hershey bars that have almonds in them. I guess I'm more of a sugary sweets type of person, hand me some sour patch kids and I'll go to town on them without leaving leftovers to share!
12. I'm officially NOT paying for Christmas this year. I'm depending solely on Swagbucks and other DIY gifts to make this year memorable. With Swagbucks you can earn points and redeem them for giftcards, plus, if you sign up now and use the code "FreeGiftCards" with my referral link you get an extra 50 points.
13. I don't wash my face. Never have, probably never will. I guess I'm lucky and I don't get acne but somehow I manage to have a fairly pimple-free face! I don't even wash my face in the shower unless I can feel dirt on it, ya not even the sweat. Yes water still touches my face and that's enough to wash it for me but it works. And don't change something that's working they always say!
14. My sleeping schedule is way off. It's currently 1:31 am and I'm wide awake completing this post for 6 am. I'm not even sure why my schedule is so off but I can easily stay up until 4 am with no problems, not even a yawn! I've been trying to shut down around 10 am when I can but sometimes I just lay there and stare at the walls (which drives me nuts) so I do everything in my power to force myself to sleep. It sucks! Any suggestions on helping to fix this prob?
15. I'm a Pinterest addict. I actually have OVER ten Pinterest boards dedicated to my wedding... but I'm not even engaged yet. Oh well, at least I'm prepared for if/when it actually happens! I also have about fifteen boards with of recipes but to be honest I've probably only tried ten or fifteen of those recipes. I'm getting better at it but I'd like to try out some new stuff. I just hate how expensive food is!!
16. I have never tried sushi. And I have no intentions on trying it.
17. I take a selfie almost daily. This one I blame on you guys. Because of my blog I use the excuse that I need to keep you guys up to date on what I'm doing since I suck at posting it to my blog all the time. PLUS, I use Instagram a lot. My dad actually loves seeing my pictures which makes me even happier so I post more. (Love ya dad!) But, I'm using my over-excessive-posting in a positive way because I'm turning it into a Photo-A-Day type challenge!! So far it's working and it's actually a lot of fun!
18. I love kids. All kids, it doesn't matter the age. I can snuggle a newborn, I can play fetch with a toddler or I can play hide and seek with a five year old. I'm not picky. I love them all. Especially the ones that don't cry when I old them or look at them...
19. I have projects from 2012 that still aren't done. Like my Yearly Review books. They're almost done I promise! I only have October through December left to complete and I really would love to see myself finish them up pronto, but they always get thrown on the back burner! Ugh, such procrastination and yet I feel like my life is a complete mess of being too busy.
20. I have only broken one bone in my body. My collar bone. Thanksgiving of my sixth grade year. Spent the night before in the ER and ended up being mad at myself because I realized my dreams of making the Olympics for boat rowing might be over. Just kidding, I was horsing around doing some super-cool dance move I learned in dance class and fell, it hurt. But the annoying brace hurt more because it was mega uncomfortable.
21. I'm not sure if you're reading this. Yes, #21 is a test to see if you've read all my fun facts and you're not just jumping down to the rest of this post. Will you skip this?! Only the comments section below will tell ;)
So did you laugh at me? Yes, I know I'm a nut job. It's ok! Just tell me!!
______________________________________________________________________________________________
HOSTED BY:
CO-HOSTED BY:
______________________________________________________________________________________________
Boom! I wanna hear your facts :)
RULES:
1. Follow your hosts Keeping Up With Kelsey & Every Girl Like Me
2. Follow your weekly co-hosts Hello Felecia


(PS- We still have a few spots available for NEXT WEEK for co-hosts)

3. Post the button onto your blog post so others can come link up as well

4. Link up your post below and look around at others blogs!

5. If you use Instagram of Twitter, tag us! #30DoB






______________________________________________________________________________________________
If you need a refresher here is this month's link-up posts:
1. Tuesday- Your Goals For The Month
2. Wednesday- Your Biggest Fear
3. Thursday- What Makes You... You!!
4. Friday- These Are A Few Of My Favorite Things, About Spring
5. Saturday- Share Your Favorite Workout Routines (And Why You Love Them)
6. Sunday- Your Favorite Sunday Routine Or Thing To Do On Sundays
7. Monday- What Do People Not Understand About You?
8. Tuesday- Your Favorite Photograph And Why
9. Wednesday- April Is Poetry Month, Share Your Favorite Poem
10. Thursday- Where Do You See Yourself In 10 Years? (Include Photos As A Challenge)
11. Friday- Did You Ever See Yourself Doing What You Do Today?
12. Saturday- Favorite Style of Blogging (Pictures, Quotes, Tutorials, Recipes)
13. Sunday- Share A Recipe, Book, or Product That You've Recently Tried
14. Monday- Biggest Pet Peeve
15. Tuesday- Share Your Date Night!
16. Wednesday- What Did You Give Up
17. Thursday- Thankful Thursday
18. Friday- Biggest Insecurities
19. Saturday- Favorite Quote
20. Sunday- HAPPY EASTER! Your Easter Traditions
21. Monday- 21 Facts About You
22. Tuesday- Who Are Your Blog Besties?
23. Wednesday- Wordless Wednesday
24. Thursday- Thirsty Thursday! What Are Your Favorite Drinks?
25. Friday- Songs You Love/Hate
26. Saturday- Greatest Life Lesson
27. Sunday- Spring Bucket List
28. Monday- FREEBIE! (Write Your Own Prompt!)
29. Tuesday- Favorite 30DoB Prompt
30. Wednesday- April 30DoB Goal Review
Keep an eye out, I'm going to create a list for the entire month so you can really get ahead of the game and post them all at once if you really want. Bonus points to the person that does too!!
Want to try out the new Bulu Box for just $5/month?
Click below and use the special promo code to get started!!