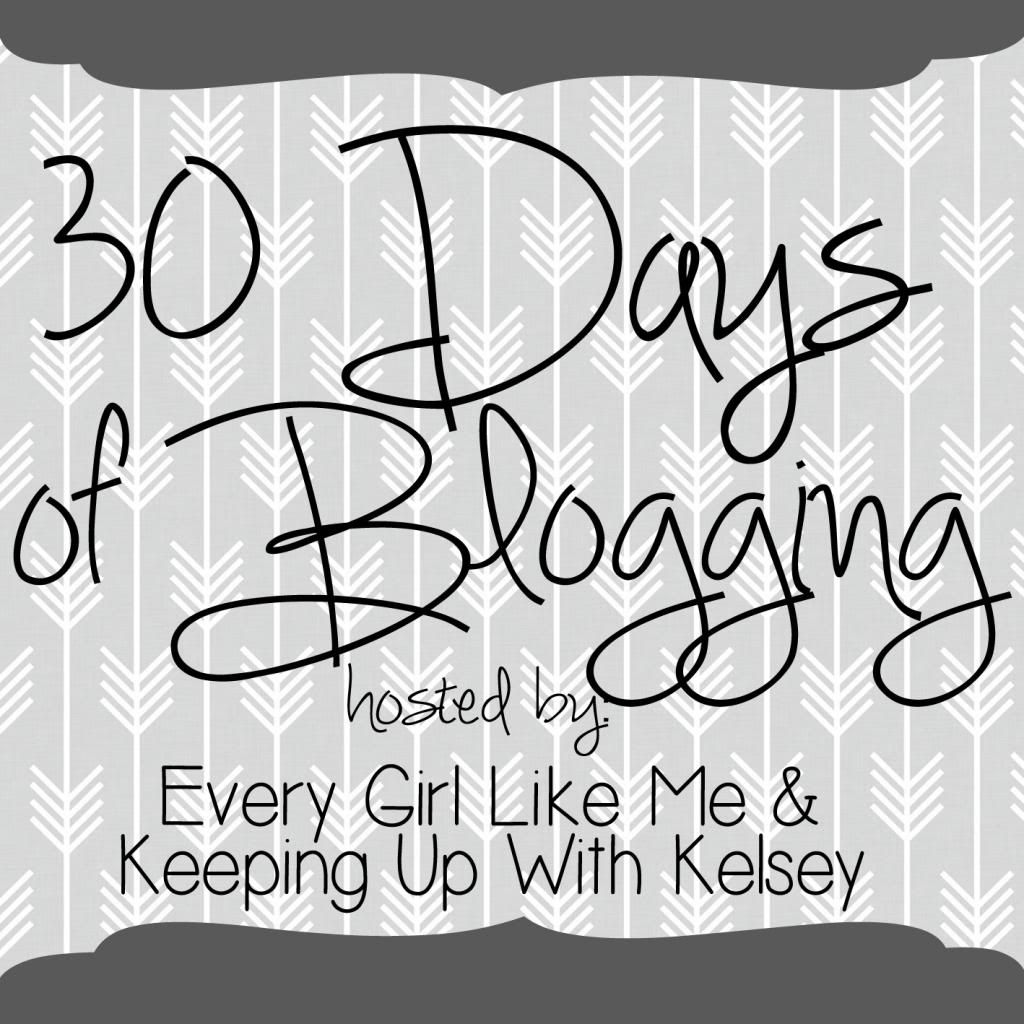 Welcome everyone! To those who are new jump on in! No need to back track and catch up on what you've missed (unless of course you want to, then by all means please do). Grab the button and blog about today's question. We love including newbies and are excited to see what you have to say each day!
______________________________________________________________________________________________
We're winding down to the last few days of the month and I cannot believe how fast it's gone!
But, along with blogging for twenty-four days straight comes a little added stress. Luckily for me, I love a tasty drink to relax and socialize once in awhile!!
So awhile back I participated in The Party Don't Stop Till I Walk In and I had some bomb arse photos of me and my partying lifestyle. And I also highlighted my horrible addiction to snapchatting while holding drinks on Thirsty Thursday post as well. Ya, it's worth the clicks on the posts I promise!
But, I just want to repost my picture because it's that awesome!
So, today isn't about drinking in itself, today is about what your favorite drinks are...
Well, judging by the above picture I pretty much love beer and mixed drinks.
Ya, not a slim enough category I suppose. So instead, I'll break it down and tell you my favorites!
First off, Busch Light is a given. I googled it but I can't find an answer to what our favorite beer is but I'm willing to place a bet the Busch Light is the most sold beer. Mostly because we love it, and it's cheap. Also, while googling beer facts about Nebraska I discovered we're the FIFTH biggest binge drinkers in the United States...
Seriously!? With over 61% of Nebraskans saying they've consumed alcohol over the past thirty days I'm not surprised, but I still say we can thank Husker Football for most of those binge drinking days!
Yes, I suppose we love our alcohol?!

Alright, back on track now...
Next up, my favorite drink is the Fuzzy Navel. It's pure heaven mixed into a cute little plastic cup and served with ice. I drink these babies in the summer and winter both and I love them with my whole heart.
Here's the recipe:
1 shot Peachtree Schnapps
1/2 shot Vodka
Fill rest of the way with orange juice
Simple ingredients. Gets straight to the point and I looooove me some OJ!
My theory is that if I'm mixing orange juice with liquor I'm hydrating myself and dehydrating myself all at the same time so it has to work out in the morning. And, truth be told, I honestly don't get hangovers after a night of drinking these compared to a night of drinking beer. It's totally weird but I think my theory works!
So don't judge. I'm not a total alcoholic but I do enjoy a good drink with friends! ;)
PS- I may or may not be posting tomorrow early in the day, I'm going out with my gal pal Faith (aka someday sister in law) to a "Thunder Down Under" male performance act at the bar. Here's to having a great night and not being able to take pictures for you guys ;)
______________________________________________________________________________________________
HOSTED BY:
CO-HOSTED BY:
______________________________________________________________________________________________
And I hate having to pick lists like this by the way! There's too many awesome ladies that weren't included but I made myself a promise to keep the numbers down! Who are your besties?
RULES:
1. Follow your hosts Keeping Up With Kelsey & Every Girl Like Me
2. Follow your weekly co-hosts Hello Felecia


(PS- We still have a few spots available for NEXT WEEK for co-hosts)

3. Post the button onto your blog post so others can come link up as well

4. Link up your post below and look around at others blogs!

5. If you use Instagram of Twitter, tag us! #30DoB






______________________________________________________________________________________________
If you need a refresher here is this month's link-up posts:
1. Tuesday- Your Goals For The Month
2. Wednesday- Your Biggest Fear
3. Thursday- What Makes You... You!!
4. Friday- These Are A Few Of My Favorite Things, About Spring
5. Saturday- Share Your Favorite Workout Routines (And Why You Love Them)
6. Sunday- Your Favorite Sunday Routine Or Thing To Do On Sundays
7. Monday- What Do People Not Understand About You?
8. Tuesday- Your Favorite Photograph And Why
9. Wednesday- April Is Poetry Month, Share Your Favorite Poem
10. Thursday- Where Do You See Yourself In 10 Years? (Include Photos As A Challenge)
11. Friday- Did You Ever See Yourself Doing What You Do Today?
12. Saturday- Favorite Style of Blogging (Pictures, Quotes, Tutorials, Recipes)
13. Sunday- Share A Recipe, Book, or Product That You've Recently Tried
14. Monday- Biggest Pet Peeve
15. Tuesday- Share Your Date Night!
16. Wednesday- What Did You Give Up
17. Thursday- Thankful Thursday
18. Friday- Biggest Insecurities
19. Saturday- Favorite Quote
20. Sunday- HAPPY EASTER! Your Easter Traditions
21. Monday- 21 Facts About You
22. Tuesday- Who Are Your Blog Besties?
23. Wednesday- Wordless Wednesday
24. Thursday- Thirsty Thursday! What Are Your Favorite Drinks?
25. Friday- Songs You Love/Hate
26. Saturday- Greatest Life Lesson
27. Sunday- Spring Bucket List
28. Monday- FREEBIE! (Write Your Own Prompt!)
29. Tuesday- Favorite 30DoB Prompt
30. Wednesday- April 30DoB Goal Review + GIVEAWAY WINNER ANNOUNCED
Keep an eye out, I'm going to create a list for the entire month so you can really get ahead of the game and post them all at once if you really want. Bonus points to the person that does too!!
Want to try out the new Bulu Box for just $5/month?
Click below and use the special promo code to get started!!