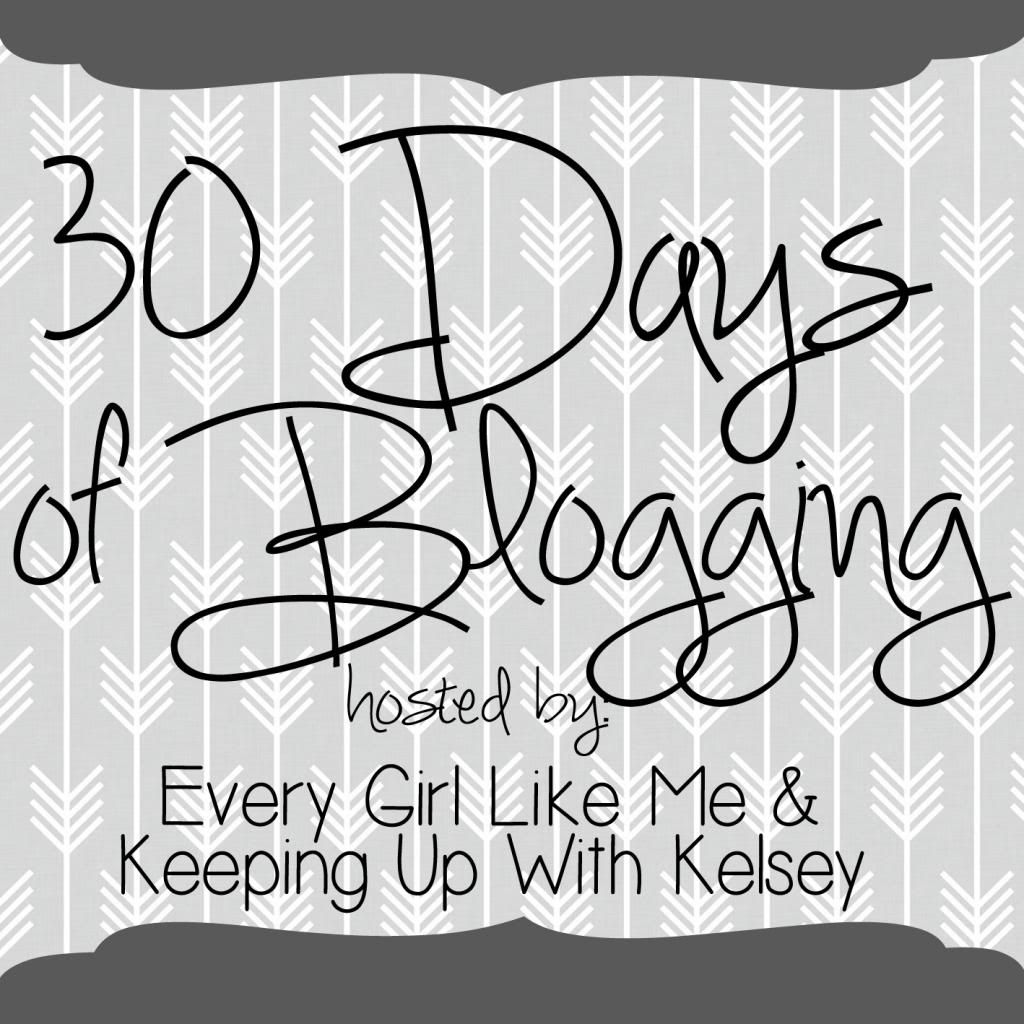 Welcome everyone! To those who are new jump on in! No need to back track and catch up on what you've missed (unless of course you want to, then by all means please do). Grab the button and blog about today's question. We love including newbies and are excited to see what you have to say each day!
______________________________________________________________________________________________
Well I'm a music snob and I admit that I either love something or I absolutely hate it. Lately though I've been loving a lot of many artists and songs!
I love all music, I listen to mostly country and pop but as long as it's not classical music I'll listen to it.
First off, I've got to start with Granger Smith. He's hilarious and has some bomb music. If you've never heard of him before google that country boy!
Another one on my radar happens to be any and all dirt road country type bands. I love Texas country music and I quite often considered moving down there strictly for the fact that I could listen to their radio stations night and day and not require Pandora or any other streaming music. So that includes Casey Donahew Band, Jason Boland, Chris Knight, and Aaron Watson just to name a few.
Miley Cyrus concert in March 2014
Most including Rachel and Chelsee can attest that I'm a bit of a Miley Cyrus freak. I bought her new album and I pretty much love every single song on it. I'm not a big fan of her slower songs but her songs like Wrecking Ball and We Can't Stop are blaring in the Tahoe and the cd is in my 6-disc changer at all times for those "just in case" moments. I mean, I did go to her concert and everything so that means I'm a super fan right? Ya, be jealous all you non-pop fans :P
Another love of mine that won't come as a surprise is my sexy husband Luke Bryan. Sadly, he's out on tour and I don't get to spend a lot of time with him but I'm ok with it. He's making us money and luckily that means I have time to hang out with friends and blog about my life. Once he gets home though, sorry but I'm gonna go MIA for quite awhile!!
And how could I forget the song that seriously I thought was my theme song for awhile? Every time I would get into a car it'd start playing, or we'd walk into a bar with friends and BOOM, somehow this song seemed to be on. Weird but I laugh about it now! Maybe it's cause I kept gettin a lil drunk those nights!?
And one quick last one, I wanted to let you guys know about a new song I just head yesterday. It's by Blake Shelton and it's a true story type song. I'm lovin it and expect the radio to fully over play it within the next month or two!!
I can't forget my girl Taylor Swift now can I?! I saw her about five years ago, way before she was a big timer and when she was still preforming at Country Stampede. I wasn't too impressed with her back then but after buying her first cd I kind of started liking her. I now own three of her cd's and truly love this chick!
Taylor Swift in July 2008
And now for the hates list... Um? Anything that sounds like the Biebs I guess? I don't have a lot on my hate list. There's more on my "overplayed by the radio" list than anything. Doesn't mean I don't like them just means I'm tired of listening to them because the radio is ruining them!!
______________________________________________________________________________________________
HOSTED BY:
CO-HOSTED BY:
______________________________________________________________________________________________
And I hate having to pick lists like this by the way! There's too many awesome ladies that weren't included but I made myself a promise to keep the numbers down! Who are your besties?
RULES:
1. Follow your hosts Keeping Up With Kelsey & Every Girl Like Me
2. Follow your weekly co-hosts Hello Felecia

(PS- We still have a few spots available for NEXT WEEK for co-hosts)

3. Post the button onto your blog post so others can come link up as well

4. Link up your post below and look around at others blogs!

5. If you use Instagram of Twitter, tag us! #30DoB



______________________________________________________________________________________________
If you need a refresher here is this month's link-up posts:
1. Tuesday- Your Goals For The Month
2. Wednesday- Your Biggest Fear
3. Thursday- What Makes You... You!!
4. Friday- These Are A Few Of My Favorite Things, About Spring
5. Saturday- Share Your Favorite Workout Routines (And Why You Love Them)
6. Sunday- Your Favorite Sunday Routine Or Thing To Do On Sundays
7. Monday- What Do People Not Understand About You?
8. Tuesday- Your Favorite Photograph And Why
9. Wednesday- April Is Poetry Month, Share Your Favorite Poem
10. Thursday- Where Do You See Yourself In 10 Years? (Include Photos As A Challenge)
11. Friday- Did You Ever See Yourself Doing What You Do Today?
12. Saturday- Favorite Style of Blogging (Pictures, Quotes, Tutorials, Recipes)
13. Sunday- Share A Recipe, Book, or Product That You've Recently Tried
14. Monday- Biggest Pet Peeve
15. Tuesday- Share Your Date Night!
16. Wednesday- What Did You Give Up
17. Thursday- Thankful Thursday
18. Friday- Biggest Insecurities
19. Saturday- Favorite Quote
20. Sunday- HAPPY EASTER! Your Easter Traditions
21. Monday- 21 Facts About You
22. Tuesday- Who Are Your Blog Besties?
23. Wednesday- Wordless Wednesday
24. Thursday- Thirsty Thursday! What Are Your Favorite Drinks?
25. Friday- Songs You Love/Hate
26. Saturday- Greatest Life Lesson
27. Sunday- Spring Bucket List
28. Monday- FREEBIE! (Write Your Own Prompt!)
29. Tuesday- Favorite 30DoB Prompt
30. Wednesday- April 30DoB Goal Review + GIVEAWAY WINNER ANNOUNCED
Keep an eye out, I'm going to create a list for the entire month so you can really get ahead of the game and post them all at once if you really want. Bonus points to the person that does too!!
Want to try out the new Bulu Box for just $5/month?
Click below and use the special promo code to get started!!