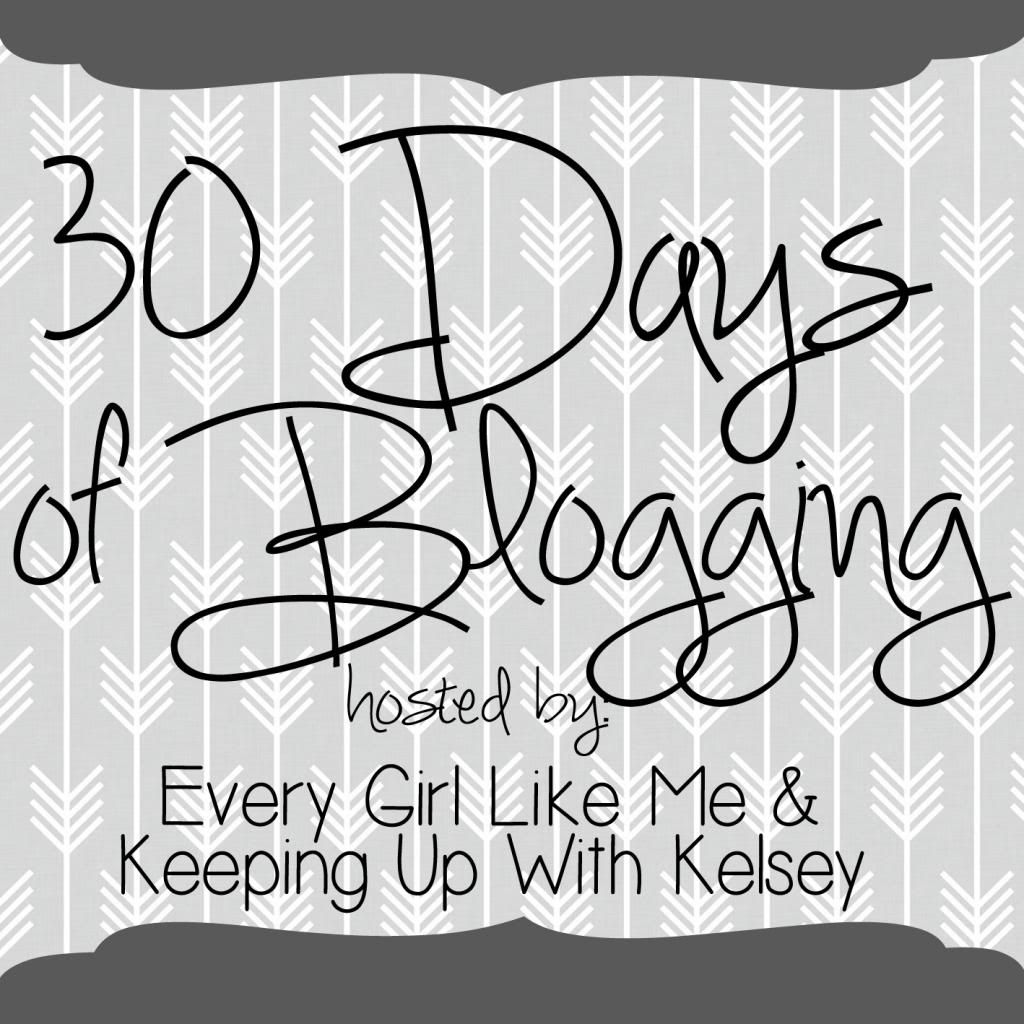 Welcome everyone! To those who are new jump on in! No need to back track and catch up on what you've missed (unless of course you want to, then by all means please do). Grab the button and blog about today's question. We love including newbies and are excited to see what you have to say each day!
______________________________________________________________________________________________
Jumping right into this one I'd say there are many life lessons I've learned in my short twenty-four years of life.
Never take credit for God's work. I'd say one of the most important things that I can credit for all the adventures and the positive attitude I've had in my life is due to God. I can distinctly remember the place, time of day and age I was when I decided that I trusted God with my whole heart and had intentions of allowing him to lead my life in the direction he choose. Now I understand that sometimes I fall or stumble, but the Lord is there to pick me up and remind me that by choose him my life will be ok. I thank him daily for the miracles he's worked and I am very open about following in my faith.
Don't forget to stay grounded. I often get myself in over my head and things are going great then something happens and I realize I strayed too far and I didn't stay grounded enough. Lesson learned over and over again but always be grateful for the opportunities that come your way but never forget where you came from!!
Family comes first, always. There has never been a point in my life (thankfully) where I've been forced to choose between family and someone but in my opinion family will always be first. There has been things I've done they don't agree with but they've never once walked out on me or disowned me. I have an amazing family that is there with words of encouragement even through struggles when I can't rationalize what to do in the situation. Again, they keep me grounded and remind me of my faith and trust in the Lord. (See what I did there, more life lessons from above!)
Don't spend frivolously. Alright so ever since I was little I had a guilty concious of spending money. I guess I was born to save? Weird, but I'd feel guilty dropping $200+ on a prom dress, or going out to see movies with friends every week. If it weren't for me saving back my money over the past few years this 5+ months of "retirement" would have been impossible for me to get by. Lesson being, don't spend on extra things unless you have some savings hidden and can pay for a spare time (or two) without having to pick up extra shifts at work.
______________________________________________________________________________________________
HOSTED BY:
CO-HOSTED BY:
______________________________________________________________________________________________
What are some life lessons you've learned? Some the hard way, while others are just plain and simple!
RULES:
1. Follow your hosts Keeping Up With Kelsey & Every Girl Like Me
2. Follow your weekly co-hosts Hello Felecia

(PS- We still have a few spots available for NEXT WEEK for co-hosts)

3. Post the button onto your blog post so others can come link up as well

4. Link up your post below and look around at others blogs!

5. If you use Instagram of Twitter, tag us! #30DoB



______________________________________________________________________________________________
If you need a refresher here is this month's link-up posts:
1. Tuesday- Your Goals For The Month
2. Wednesday- Your Biggest Fear
3. Thursday- What Makes You... You!!
4. Friday- These Are A Few Of My Favorite Things, About Spring
5. Saturday- Share Your Favorite Workout Routines (And Why You Love Them)
6. Sunday- Your Favorite Sunday Routine Or Thing To Do On Sundays
7. Monday- What Do People Not Understand About You?
8. Tuesday- Your Favorite Photograph And Why
9. Wednesday- April Is Poetry Month, Share Your Favorite Poem
10. Thursday- Where Do You See Yourself In 10 Years? (Include Photos As A Challenge)
11. Friday- Did You Ever See Yourself Doing What You Do Today?
12. Saturday- Favorite Style of Blogging (Pictures, Quotes, Tutorials, Recipes)
13. Sunday- Share A Recipe, Book, or Product That You've Recently Tried
14. Monday- Biggest Pet Peeve
15. Tuesday- Share Your Date Night!
16. Wednesday- What Did You Give Up
17. Thursday- Thankful Thursday
18. Friday- Biggest Insecurities
19. Saturday- Favorite Quote
20. Sunday- HAPPY EASTER! Your Easter Traditions
21. Monday- 21 Facts About You
22. Tuesday- Who Are Your Blog Besties?
23. Wednesday- Wordless Wednesday
24. Thursday- Thirsty Thursday! What Are Your Favorite Drinks?
25. Friday- Songs You Love/Hate
26. Saturday- Greatest Life Lesson
27. Sunday- Spring Bucket List
28. Monday- FREEBIE! (Write Your Own Prompt!)
29. Tuesday- Favorite 30DoB Prompt
30. Wednesday- April 30DoB Goal Review + GIVEAWAY WINNER ANNOUNCED
Keep an eye out, I'm going to create a list for the entire month so you can really get ahead of the game and post them all at once if you really want. Bonus points to the person that does too!!
Want to try out the new Bulu Box for just $5/month?
Click below and use the special promo code to get started!!