This post got buried with my 30DoB going on and it never got posted. So back track and pretend this was posted over a month ago would ya ;)
Alright gonna start this off a fun note.
I'm really excited to announce that I am now partnered up with Bulu Box to bring you guys an amazing subscription box that brings healthy products right to your doorstep!
I was contacted by Bulu Box stated that since I'm running The Good Life Halfsy, I live in Nebraska and subscribe to their product that they'd love to partner with me and offer my readers an awesome discount on Bulu Box subscriptions. I of course jumped at the offer and was thrilled to have my first company contacting me to partner with them. Normally it's me asking to partner with companies in hopes of scoring great products at a discount. This time though, it was a product I was already receiving (and loving) so it was an added bonus I was able to join forces and continue my lovely journey with them!!
_____________________________________________________________________________________________
I choose the original Bulu Box. The only reason I didn't choose the weight loss box is because I'm really not interested in loosing weight via pills. I would have loved to try out some of their fitness gear items but I'm also subscribed to StrideBox so I figured I could always plan on them sending me super cool fitness items.
Before I give you my review I wanted to let you guys know that I have an amazing discount code to share with you guys. Bulu Box has given me a code to share so you guys can get a discount on your subscription!! Go to BULU BOX using that link and enter the code BULUGAN065 to get 50% off your orders! Yup, that's freakin sweet if you ask me, getting amazing products shipped right to your door for such a discount. Couldn't ask for anything more :)
But, if you'd like to maybe see what's actually in the boxes and get my opinion on it before you subscribe no biggie, I'll probably add some more infomercial type stuff at the bottom anyways ;)
______________________________________________________________________________________________
I gave you a little review of last months box and I figured I'd just do the same thing for this month again since it worked so well. The picture above is the exact box I receive this month but I'm guessing you're wanting me to show you my box's items with my own photos and review? Well, let me show you!
#1 XyloBurst Gum- I got the fruit flavor pack. XyloBurst gum is a naturally occurring sweetener that is sugar and aspartame free. XyloBurst packs the flavor and the health by eliminating harmful mouth bacteria and preventing tooth decay.
My Review- I was amazingly surprised to see this product in my kit. I have terrible teeth and my denist always recommends the only gum I chew is the kind with xylitol in it. So, when this was delivered I was excited to give it a go and check out how it tasted! Well, the fruit flavor was great, the fact that it had what I needed in was a bonus but the flavor didn't last long. I'm talkin within ten minutes I already had spit it out and was over it. Sadly, as much as I wanted this product to be a keeper I'm thinking it's not gonna be bought anytime soon.
#2 VanaPain Day- I received the strawberry flavor. VanaPain is a fast acting liquid pain reliever to stop pain in its tracks. VanaPain comes in an easy-to-take shot form and provides temporary relief from minor aches and pains for up to six hours.
My Review- Well, I have been waiting on this sucker for awhile because I wasn't just going to take it just to take it. I really wanted a solid headache that would give this product a run for it's money. That day came the day before I wrote this post. Actually, it came on so strong that I had to quite blogging and go lay down due to lack of wanting to live it was that bad.
#3 Rootology- With a new, more potent formula, Rootology is the best blend of concentrated herbal extracts that work individually and in concert with one another to immediately support nasal, sinus and eye health for dramatic seasonal allergy relief without a prescription. Stay healthy to stay active.
My Review- I kind of was excited for this sucker! I have been getting worse allergies every year and I refuse to go to the doctor about it. I'm not even sure why I have this phobia but it's something along the lines of being terrified of the allergy test I see that people have to do. You know the one I'm talking about. The one where they stab you on the back with like twenty different things to see what you're all allergic too. I know I have pet, dust, and anything living allergies and I don't need a test to show it!! I couldn't really tell if it worked but since I have a few I'll go ahead and use them up! This might be a product to continue to try to see if it makes a difference.
#4 VirMax T- Men's testosterone levels begin to decline with age, leading to low energy, joint pain and a fading sex drive. But it doesn't have to be this way! Take VirMax T once daily to help build muscle, improve immunity and increase sexual endurance.
My Review- This might have been the doozy of the box for me. I mean really, what kind of "man" am I?! I about died laughing when I opened my box and read about this product. Like seriously, how awkward would it be for me to start growing chest hair and stuff... So, this one is going in my "giveaway" bundle for someone else to either throw away or test out. No harm in sharing things I won't use right?! #sorrynotsorry
#5 K-Pax Energy- Get a healthy and immediate energy boost! KPAX uses the perfect combination of vitamins, amino acids, antioxidants and just the right amount of caffeine to get you up and ready to take on your workout or workday with no sugars, artificial taste or sweeteners.
My Review- I've actually quit drinking pop which was my main source of caffeine so this felt like a fun little zip of spaz time :) Once I tried it I didn't feel super sugary nor that crazy feeling I get when I try other energy products but just a calm sense of "high." This was super hard to explain but it really does work I think. I probably won't buy this product again but it was pleasantly nice to enjoy while I had it.
#6 Onebode Flo- Get the most out of your food. Flo's probiotic enzymes help your body better digest food, absorbing more nutrients and higher amounts of vitamins and minerals. The enzymes in Flo also support healthy regularity and digestion.
My Review- This product wasn't something I was into really. I guess to me these things aren't important as much as healthy snacks for running and vitamin water tablets for my drinks. I used it but didn't really notice a change is digestion or anything similar. Not my favorite item in my box.
______________________________________________________________________________________________
Oh and another cool thing they offer. REWARD POINTS. Yes, that means when you do product reviews on their site and have others use a referral code you also get points that you can use towards full size products in the store. So if each month you complete your product reviews you get $5 to spend in the store. Pretty nifty stuff and a great way to cash in and get a discount on that new snack bar you're lovin on!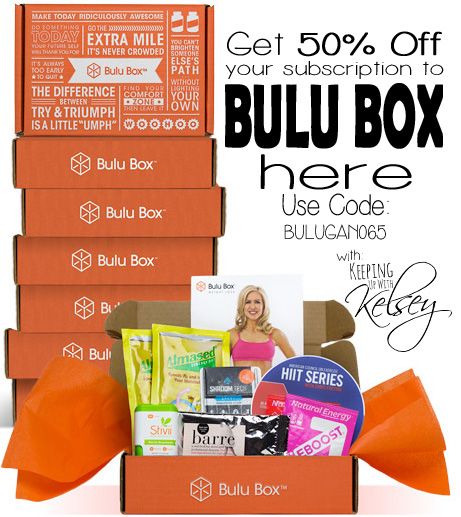 Are you ready to go try it out for yourself?! Since I'm an affiliate I get a super cool 50% discount code to give to my blog buddies. Just click the picture above to get your first box and try it out for HALF OFF the regular price. Enter the code BULUGAN065 and you're all ready to roll! Make sure that you're using the links I've provided as well in order for it to work and also so I can get a little extra for showing you guys the awesome goodies!
That makes it only $5 a month per box or $15 for a three month subscription. The way I look at it, you get to try out some new products for a great price, if you don't like them you can cancel after the first month and you're only out $5. That's what you spend at McDonald's anyways right?!
*I am affiliated with Bulu Box but all of the opinions expressed are from my personal experience with their products. I am in no way a doctor and I cannot recommend or give you health specifics for you situation*
Want to try out the new Bulu Box for just $5/month?
Click below and use the special promo code to get started!!