Finally getting caught up on posts that have been sitting in drafts for awhile and I couldn't miss a review on one of my favorite box subscription services that I've subscribed to!
If you didn't already know, I'm a Bulu Box Brand Ambassador. What that means is I get a super awesome discount code to share with all of my friends that allows you guys to get 50% off ANY subscription from them. They have super neat regular Bulu Box (which is what I'm subscribed to) and they have a Weight Loss Bulu Box which is geared with more weight loss type products in it.
To get your Bulu Box for just $5 visit Bulu Box, use my link and use code BULUGAN065.
I figured to give you a better idea of what the boxes are all about I'd do my monthly review and give you my opinion's on the products!
________________________________________________________________________________________
The picture posted at the top is the April box that I received. So pretty right?!
1. Rally Capsules- Going out for a drink tonight shouldn't ruin your tomorrow. Rally Capsules are a stimulant-free hangover prevention that replenishes your body's vitamins and antioxidants lost during drinking. After drinking, take two before bed and wake ready for the day tomorrow! Remember to always drink responsibly. Priced at $24.99 for a 10 pack. My Review: Ok, again, I'm not sure what the deal is but I'm pretty sure between Bulu Box and StrideBox they know I like to have a good time and go out with friends and party it up. Cause this might be the third or fourth "hangover" type product I've recently recieved. And it's tough to use these when I honestly don't go out that often! I mean, yes I do go out but I normally keep the drinking under control and I don't have a need for these suckers. I hate hangovers so I pace myself and avoid them at all costs when possible. This has yet to be used so I can't give it an honest review yet but I'm certain it'll work out just fine...
2. WhiteShield- Prevent staining from your morning coffee with this natural, flavorless powder that mixes easily into your morning cup of joe. WhiteShield prevents new stains from forming while also helping gently remove existing stains. No more coffee teeth! Priced at $22.99 for 50 packets. My Review: These were yet another product that were tough to test out for me! I normally don't drink coffee which is great for me considering the amount of caffeine in them and also the fact that I already have terrible teeth but crappy to give you guys a review on! I did make myself some coffee just to try them so I could tell you how I felt about them and surprisingly it did just what it'd say it'd do. Be tasteless. I did notice that I must not have stirred it in quite enough because I could almost feel "chunks" in it. As for preventing stains on my teeth I really couldn't tell a major difference but I gave it a try and the others are sitting patiently waiting for me to make more coffee so they get their chance to be tried out!
3. Fruit.O in Mango Pear Pineapple- A more convenient way to snack, Fruit.O pouches are made using organic fruits including mangos, blackberries and bananas with none of the artificial stuff. Swap out your afternoon vending machine run for Fruit.O. Priced at $22.99 for 10 pouches. My Review: I'm already in love with the Buddy brand of these pouches I buy at Wal-Mart so anytime something new comes out I like to get all super comparative about it and try to find a reason to love what I already know. Well, amazingly, I did like these almost as much. I didn't like how runny the fruit was, it was a little too liquidy and not a paste like my ol Buddies are. BUT, I did like the flavors! Anything pineapple is my friend and when I read mango on things I get worried because sometimes mango can be good but other products it tastes horrible. Looking at the ingredient list I'm impressed, mangoes, pears, pineappl juice and lemon juice. Pretty simple and that's the way I like my ingredient list, easy to read!!
4. Rainbow Light Advanced Enzyme System- Ease digestive discomfort and distress for a more balanced body. Advanced Enzyme System uses 10 potent types of plant-based enzymes to help your body better breakdown proteins, fats and complex carbohydrates. Give your tummy total relief from discomfort and keep things running smoothly. Priced at $20.99 for 90 capsules. My Review: This time I will whole heartily admit I did not even take the time to try this out. I don't have any issues with tummy discomforts so I just skipped it completely. If you're reading this and tend to have tummy issues shoot me an email with your addy and I'll go ahead and send this product your way so it doesn't go to waste! I'd hate for it to not get used but I just won't use it. See, there's always that "one item" in the box that I won't use and it just so happened to be this one! It just didn't fit me, but that doesn't mean the others who received it won't love it! Just part of the fun of trying new things :)
5. Grandma's Lye Soap- Some soaps can irritate skin. Grandma's Lye Soap gives your skin a soft, squeaky clean feeling with no detergent residue. Grandma's only uses three ingredients so you know the soap you're using is just a soap. Priced at $15.00 for three 6oz bars. My Review: Who doesn't love a new bar of soap!? I can remember my grandma making lye soap so this was an exciting one to test out!! I'm not sure I can describe the soap smell besides waxy? It also flaked off the bar while pulling it out of the package but with ingredients as simple as lard, lye and water I guess that'd make sense. Seriously, that was all that was listed as ingredients, I love it! Along with a fun little card with information it also had a 20% off coupon included! That's a win in my books and the prices are extremely reasonable considering it takes me awhile to use up a full bar of soap. I love that it recommends using this soap if you have dry skin or get rashes easily. I have border line eczema skin so anything that helps me out is something I take into consideration! For sure loving this product!
6. Promax Low Sugar Bar in Peanut Butter Cookie Dough- The delicious flavors of Promax protein bars now with less sugar. Promax Low Sugar Bars pack 18 grams of protein with 14 grams of regulating fiber. Promax Low Sugar are gluten-free and contain no artificial sweeteners. Priced at $27.60 for 12 bars. My Review: I've tried so many chocolate "health" or protein bars and gels that I truly despise these things. Some chocolates are so fake and disgusting that they've kind of ruined me but I gave it a try to be a sport and tell you guys how I felt about it. I could for sure tastes the peanut butter and the cookie dough was faint but I could still find it in the taste. The only thing I disliked was the texture of the bar, it was kinda like a crunch type bar yet still soft. I really hate hard crunch bars so to me that wasn't very appealing but otherwise, pretty easy to get through. The chocolate wasn't too fake tasting either which is always an added bonus for me.
And of course you want to see me munching on some of these yummy products and testing them out right?! Alright fiiiine, here you go. The rest will be added once I hunt them down but here's one to laugh at. Enjoy!
________________________________________________________________________________________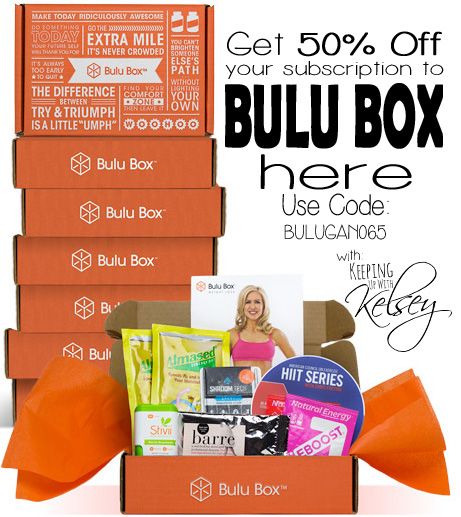 I personally have loved each and every box I've gotten over the past few months. Not only do I get to try out NEW products in trial sizes but I get to see what I don't like and what would be worth purchasing a full size product of. I realize that not all of the products are for me but I always seem to find that over half of the box I did enjoy and the things I didn't enjoy were still worth a try.
Want to try out the new Bulu Box for just $5/month?
Click below and use the special promo code to get started!!